Chris and Hillary were married on June 17th, with a ceremony and reception at the Tierra Learning Center in Leavenworth, Washington.
Memorable Things About Chris and Hillary
This is the kind of couple that you just kind of stand back in awe when you meet them. You can't help but get swept up in who they are and the way they treat life with so much respect by living it to the fullest. They have a zest for life and living adventurously, always coming back to nature to take care of this great Earth we call home—and giving lots and lots of hugs. Even though I only got to meet them the day of the wedding, we shared "get to know you" details ahead of time, and they were just as amazing in person as they seemed from what they shared with me.
The Story Behind Their Rings
I'm going to give you the abbreviated version of this story, but it's hands down the most epic ring story I have heard in all my years of shooting and being part of weddings. It's the centerpiece to an epic adventure in which they walked from Mexico to Canada in the summer of 2011!
Over the course of two different back country hikes, they collected the precious twigs that meant a great deal to them. But the hike didn't go quite as planned. That year was a heavy snow year, which meant the hike took longer than expected. To remedy the situation, they decided to dig a 10-foot hole in the snow in the hopes of finding twigs. I mean, wouldn't that cross your mind when you're out hiking and it's getting dark? Can you say determined spirits?
Luckily for them, they found what they were looking for so that they could bring it back to a ring maker to be cast in gold. Their bands were cast from twigs they collected from a Cascade huckleberry plant, which only grows at high elevations in the Cascades and is the best-tasting huckleberry—in their opinion. The leaves were hand-carved by the ring maker to look like huckleberry leaves. The diamond itself was from Chris's grandmother's ring, and his ring was made from recycled gold.
To top it all off, the people who made the rings had been the previous owners of their current home and are still a big part of their lives! It's all quite the story, with plenty of determination and effort to find perfect rings with meaning and heart.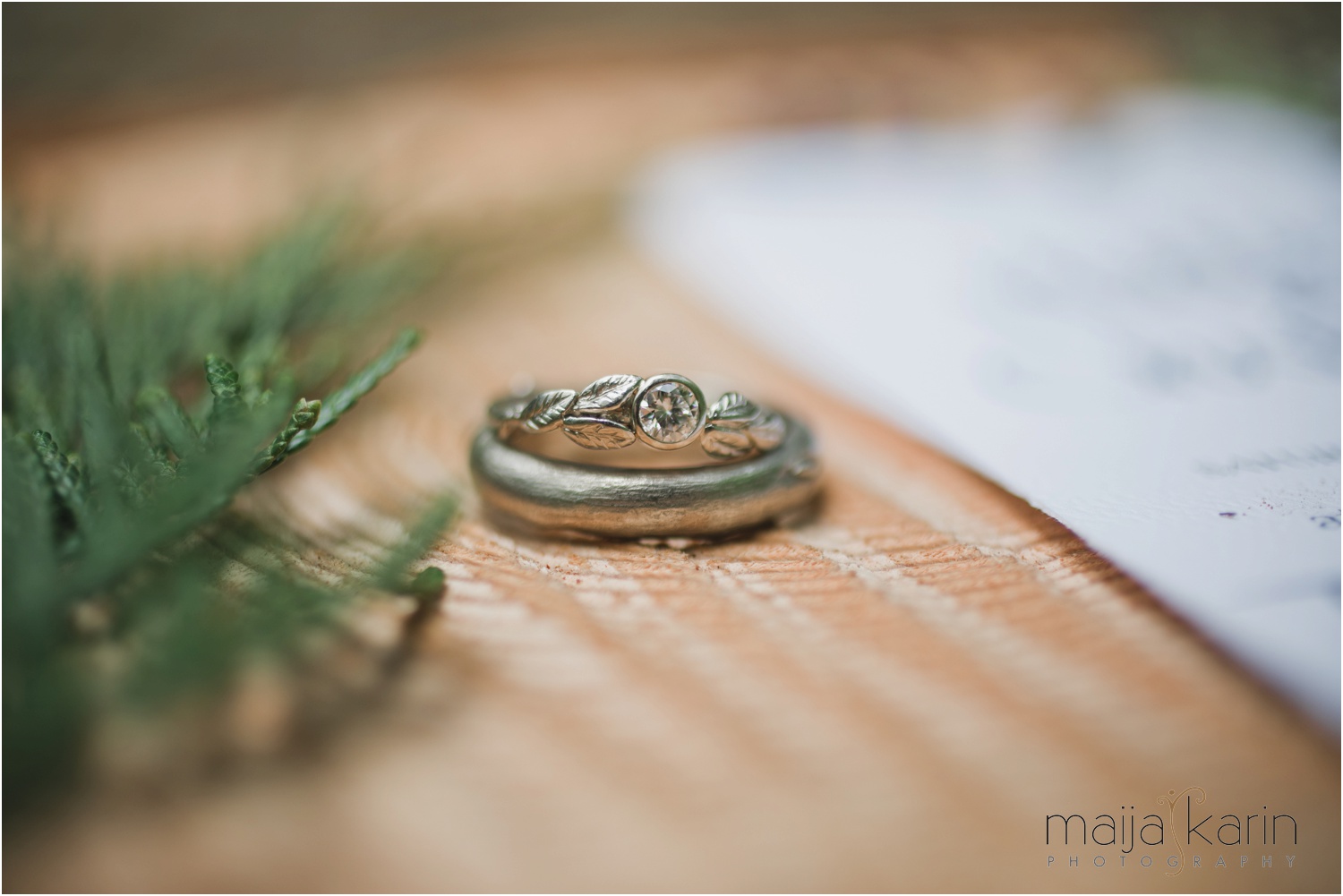 Sweet Part of the Day
Their pup, Leo, followed us around all day. They have a great relationship with him, a special connection and certain joy that fills their hearts. Leo is so faithful and obviously thankful to his new family, who rescued him. Some of my favorite images of the whole day are of the sweet moments we captured with him and Chris and Hillary.
Hugs Everywhere
This was one of my favorite elements of this wedding: Chris and Hillary were giving out hugs around every corner. I know there are usually a lot of hugs during a wedding, but there was something different about this; I can't quite explain it. There were just genuinely a lot of hugs given out, and group hugs were a specialty of theirs. ;)
My Quote for This Couple:
"The purpose of this glorious life is not simply to endure it, but to soar, stumble and flourish as you learn to fall in love with existence. We were born to live, my dear, not to merely exist. " - Becca Lee
Hillary and Chris, though I only got to spend a short time with you in the grand scheme of life, I definitely could feel that you live out this quote and see life as being glorious and something to live fully. I hope you two continue flourishing in your journey together as husband and wife, and I hope that our paths cross again!
Vendors:
The Dress: Cicada in Seattle (designed by them with help from Hillary)
Hair and Makeup: Krissy from Polish